That's completely me!
Completely me is feminine lingerie that suits me, my lifestyle and my day perfectly! My laundry is my safe companion - in every situation! Sometimes sexy and seductive, sometimes comfortable and safe - but always 100% me!
Get to know the collection!
Be completely FREE
Free from constraints, free from expectations, free from worries, free from ideals, free from judgements. Be completely YOU!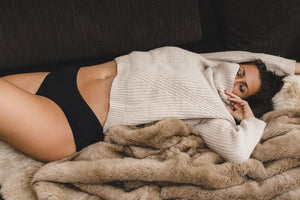 Be completely YOURSELF
Self-assured, self-assured, self-reflective, self-loving, self-determined, self-evident. Be completely YOU!
Be completely NATURAL
Naturally in balance, naturally mindful, naturally valuable, naturally authentic, naturally lively. Be completely YOU!
THE LAUNDRY THAT MAKES EVERY DAY PERFECT!
There is period underwear and there is Completely Me underwear. Top material, top fit, top wearing comfort! The panties are so comfortable you'll even enjoy wearing them on your period-free days. Just perfect and highly recommended

Daniela P
Due to the desire for a sustainable alternative to disposable menstrual products, I discovered my new favorite underwear in "Completely Me" and found a comfortable, practical companion for EVERY day.

Ena S
The panties are very comfortable to wear! I love wearing them when I'm out and about all day and want to feel safe and secure. Even after several hours of yoga in the summer at 35 degrees, I feel good all over.

Karen H